Published by: Right Now Residential and TwentyCi
In this Easter issue we have taken a step back from commentating on the structure of the market, the velocity of transactions or our recent hot topic, the supply and demand imbalance currently driving up prices.

Instead, we have taken a look at how often we move and what the impacts of these dynamics are and the importance to the overall UK economy to keep us all moving.
The Headlines
•
There are nearly 31 million residential properties in the UK

•
Of those that are owner-occupied (68%), on average, they move house every 19 years


Each Homemover has been estimated to be worth about £42,000 in incremental spend to the economy

•
Of those that are private renters (15.5%), on average, they move house every 4 years


Each Rental Homemover has been estimated to be worth about £4,000 in incremental spend to the economy
Right Now Residential have many clients who have a vested interest in home movers and the home moving process. Whether you are selling home furniture or furnishings, a D.I.Y. company, in utilities or telecommunications, or perhaps financial services, the volume of home movers and how they breakdown is a very important subject to understand.

Why? Because it's very often a significant portion of your business activities and also where a disproportionate amount of turnover and profit originates from.

But as so many of us move quite infrequently, we forget how often people move and how they breakdown into relevant segments. In fact, we often hear people from the property industry itself having a biased view of the market.

So, we thought we would take a step back and look at this for you to give you a quick guide as to how many home movers there are, how often people move and what value they have to the economy when they do move.

The very first thing we must understand is the make-up of properties, which is what we refer to as occupational tenure.

Property Occupational Tenures
Let's start with the first question. How many residences are there in the UK?

Most people (even those within the industry) often get this wrong and usually by millions.

The answer is that there are 30.8 million residential properties in the UK. To be clear, this is not all of the places that people might live, because anyone living in commercial premises (like for example a farm) would typically be on top of this number.

In any case, given the fact that we know the 30.8 million number, let's move on to see the breakdown by Occupational Tenure in the graphic below.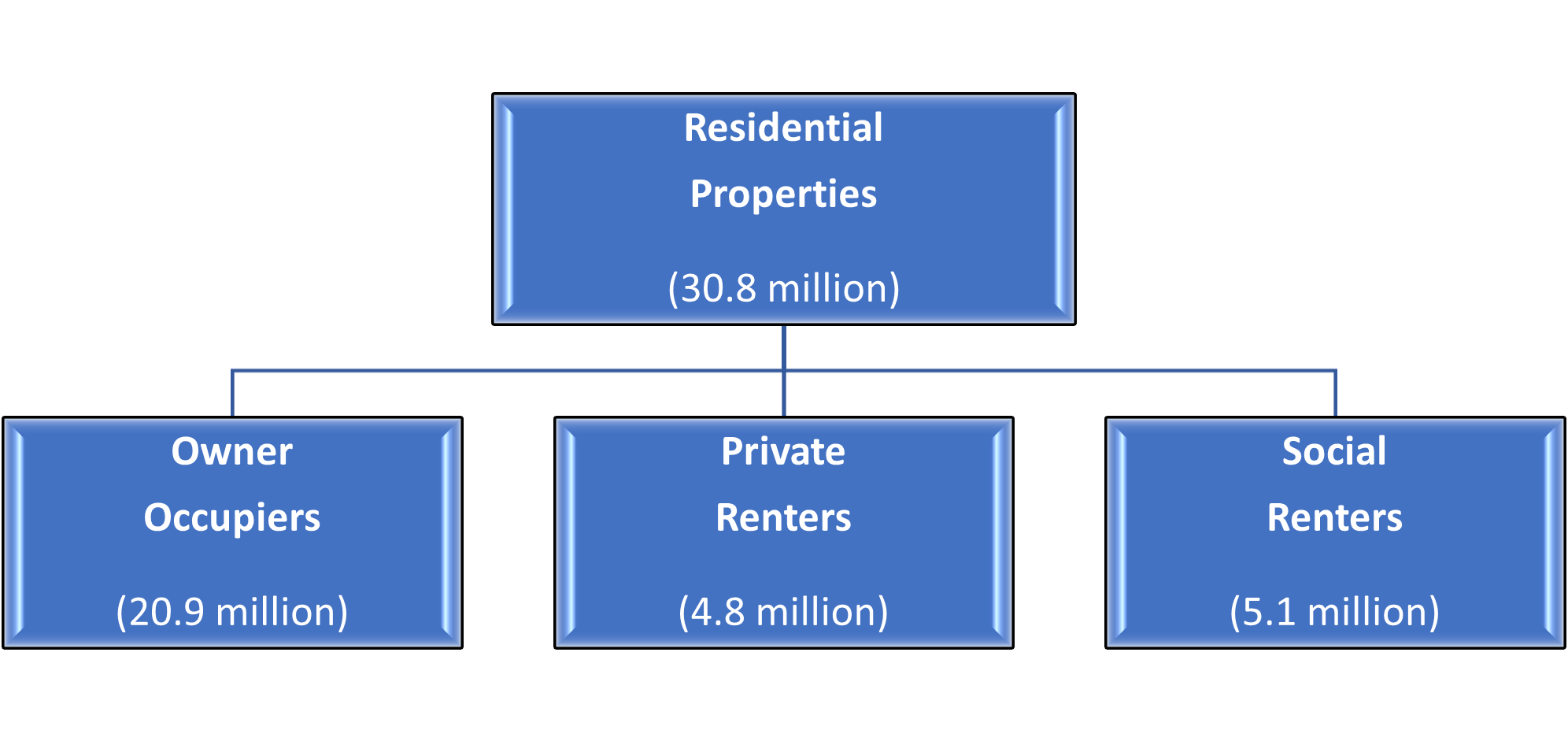 According to HMRC, there were 1.043 million transactions of residential property (for a value of £40,000 and over) in 2020.

If we take away a sensible number for purchases by Landlords (so-called buy-to-let properties) of around 80,000 properties, this means that there were about 962k owner-occupied property sales in 2020.

We then get to the second question. How often do people move house?

If we assume for a minute that 2020 is a typical year (recognising that this is not a sentence that most people would agree with), then if there are 962k owner-occupied movers with 20.9 million owner-occupied properties, dividing one by the other results in a typical move every 21.7 years.

However, 2020 was not really that typical as we all know, so taking the four years prior to this it is about 19 years.

Private Rental Households
We can now do a similar thing with private rental households. In 2020, we know that the whole of the UK market let just over 900,000 properties. But again, this is lower than the usual volume of Lets in 2019 and 2018 at around 1.14 million per annum.

Dividing this by the number of private rented properties means that on average, private renters move every 4 years.

For the avoidance of doubt, beyond knowing the number of Social renters, we do not track Social home moves.

Value of Homemovers
We have covered in prior client briefings that on average each SALE Homemover is worth around £42,000 to the economy through direct impacts on the housing market and indirect impact on retail spending. This £42,000 number is the average incremental spend derived from each consumer and in total this is worth around 3% to the UK's GDP.

However, when considering incremental spend on the rental side, this excludes rent, because a rental mover will have paid rent in the property that they are moving from as well as the one they are moving to (unless they are a new renter of course). So, there is a great disparity in the value of renters versus people in the sale and re-sale property journey. A rental mover, on average, is worth approximately £4,000 to the economy in incremental spending.

So, we can now complete the graphic by adding the relevant information.

Contact us
today to discuss selling, buying, renting or letting your property in London.