Published: 29/09/2020
By Hugh Graham at The Times
For years, Generation Rent has been getting a raw deal, with rents forever rising as flats were gobbled up by Airbnbs.
Finally, a ray of hope. Research from the lettings management platform Howsy has revealed that since lockdown in March average rents have dropped in seven out of ten areas of England and Wales, including the South East (by 7.7 per cent) the East of England (3.1 per cent), and Yorkshire and the Humber (2.5 per cent). But with falls of 7.9 per cent, London renters are getting the best deals: as tourism dries up, flat owners are turning short lets into long lets. A reduction in foreign students, and a flight to WFH in the countryside, is also reducing demand, according to Nadia Butt, manager at the rental search website Spotahome. She says that price falls of 15-20 per cent are common.
The Airbnb freefall has boosted stock by 50 per cent in Marylebone, Mayfair and Bayswater, says Martin Bikhit, managing director of the estate agency Berkshire Hathaway HomeServices Kay & Co. "There is a glut. Landlords who are used to earning £1,000 a week for Airbnbs are having to take £500 or £600, as there is zero income in short lets, and they have to pay their mortgages. We have seen a 20 per cent increase in two and three-year rental leases. It is opening up new areas to tenants who thought they could not afford central London. We have had people moving from Clapham to Marylebone."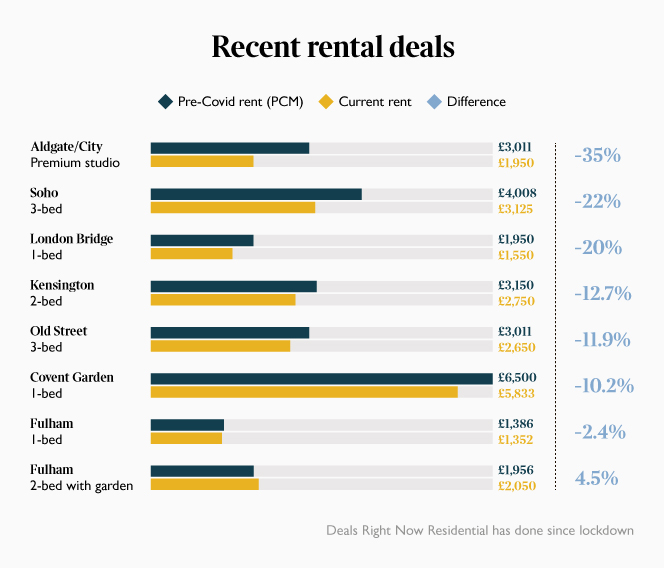 The extent of the discounts comes down to location and housing type, says
Peter Murphy
, the founder of
Right Now Residential
, a lettings agency in London Bridge. The company has rented 104 flats that used to be Airbnbs since Covid began, and has hired five new staff. "The biggest discounts are in Canary Wharf, the City or London Bridge, which are ghost towns. You can get three-bedroom flats for the price of a one-bed, and many landlords are covering security deposits. But in villagey areas like Balham or Fulham, values have held better. Prices for garden flats have gone up."Bigger discounts can be had if you commit to two or three years, and offer to pay quarterly or six months in advance.Admittedly, price falls mean nothing if you can't pay rent right now.
Murphy
advises renters who are worried about job security to ask for a six-month break clause, and for nervous landlords to do the same. "This is a boom time for renters. And it is not all doom and gloom for landlords. Markets are busy. I advise landlords to drop their price to avoid void periods, which will cost them more in the end."